575° Pizza Perks: Treat Yourself With Endless Rewards!
Tuesday, December 22nd, 2020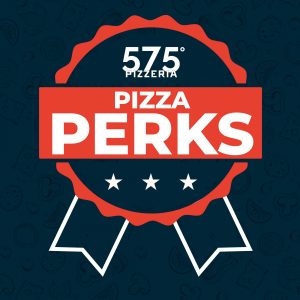 At 575° Pizzeria, each and every one of our guests are special. Our mission here at 575° is to make you happy, even if it's just for the short time that you're with us.
As a result, we are always on the lookout for ways we can improve our service or add to the overall experience we provide our guests. 
That's why we are pleased to announce the introduction of a service that that will help our guests get the most out of the time they spend with us here at 575° Pizzeria.
We have spent quite some time putting together a truly unique rewards program that offers heaps of actual rewards and can be enjoyed by any and all our patrons: 575° Pizza Perks!
How to Join 575° Pizza Perks
Registering for Pizza Perks takes only a matter of seconds, but the benefits and perks (hehe, see what we did there?) are plentiful!
There are several ways you can register for your Pizza Perks adventure
Visit the Sign-Up Page

and enter your information into the form

Open your phone and text

PIZZA

to

806-531-1233

Scan the QR Code below!




How Pizza Perks Works
The beauty of the 575° Pizza Perks program is how easily you can rack up rewards points. As soon as you sign up for Pizza Perks, you can start reaping the benefits of your membership with:
Free appetizer

**

with the next purchase of $10 or more

Spend $1, Earn 1.

That's right. For every single dollar you spend at 575° Pizzeria, we'll match it with rewards points. Spend $18? That's 18 points for you, right there! Unbeatable!

When you reach

250 Points,

then you will be the lucky recipient of a FREE 18" one-topping pizza of your choice!

Members will also receive

special treats

on their

birthdays!

And MUCH more in the works!
Be sure to join now so you can be the first ones to benefit from the many things we have planned for our rewards program. 
Ready For Some Perks?
We are truly looking forward to showering you with the same joy and happiness that we get from having you as our guests. Let us GIVE you all the joy we can! What are you waiting for? Sign up for Pizza Perks and let's get the fun started!
If you have any questions about the 575° Pizza Perks rewards program, don't hesitate to reach out through any of our social media pages, our Locations page, or even ask any of our employees at either location. We are more than happy to help you with anything you need!