If You're Vegan, You Can Still Enjoy Pizza!
Thursday, May 27th, 2021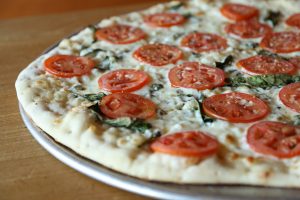 You may think that because cheese is not vegan, those who don't eat meat or animal products cannot enjoy a good pizza. But, this simply isn't true! There are many vegan options at restaurants these days, including pizzerias. If you follow a vegan diet, here's what you should know about finding your new favorite pizza.
What makes a good vegan pizza?
A delicious, vegan-friendly pizza starts with the right ingredients. The crust must be made from vegetables or other choices. Next comes the cheese! There are a number of vegan cheeses that taste great, especially when mixed with fresh toppings. These can imitate different types of dairy cheese or have a flavor all their own. Traditional tomato sauce tastes great on a vegan pizza, but there are other sauces you can try as well.
The best vegan pizzas have the highest-quality toppings. This means fresh vegetables (or fruit!), and even seeds and nuts. Ordering a build-your-own pizza is usually the best way to get everything you want. But, pizzerias offer a variety of combinations that are worth exploring. Just be sure to ask your server what vegan-friendly options are available and if they can recommend a flavor combo.
Tips for ordering vegan at a pizzeria
If you are planning on visiting a pizzeria, you can take some steps to make sure your needs are met. Here are some tips that can help you.
Pizzerias are known for serving up other foods, even desserts. Look at the entire menu to make sure you aren't missing out on anything vegan-friendly. As long as these items don't have any animal products (and aren't prepared with them), you can meet your dietary needs.
Ask the staff for help if you aren't sure what you can order. They will know what options are available.
If you are vegan and gluten-intolerant, you can still eat pizza too!
Don't be afraid to try cheeseless pizza if a vegan option isn't available. Many people actually enjoy this and it can be healthier for you.
Don't skip out on the drinks! You can find lots of choices available that pair well with your meal.
Is vegan pizza healthier?
Not every food that is vegan-friendly is considered healthy. This is because processed options are often vegan only because they have nothing natural in them. But, pizza ingredients are often healthy for anyone to consume in moderation, as long as they aren't high in fat, sodium, or cholesterol. The more fresh vegetables are on a pizza, the better it can be for you. Even if you eat meat and dairy, you can still enjoy a good vegan meal (and its health benefits).
Looking for vegan pizza in Amarillo?
If you have been searching for the perfect pizza in Amarillo, 575° Pizzeria is here to help! We have vegan and gluten-free options that are sure to please your taste buds. Give us a call at 806-322-5575 to learn more about our tasty Menu options.