Information For Those With Food Allergies & Dietary Restrictions
Friday, August 14th, 2020
When you have food allergies or dietary restrictions, we are here to help you make the most out of your time at 575° Pizzeria! We care about your dietary needs, and we're more than happy to guide you through our menu! 
Gluten Free  
We prepare our gluten-free pizzas on a pan that is separate from regular cooking surfaces to ensure there is no contact with pizzas made with gluten. Our employees' kitchen training mandates that they wash their hands thoroughly and wear gloves while handling gluten-free pizzas in order to eliminate contamination from cornmeal. We also have a separate batch of pizza-cutters that are used only to cut gluten-free pizzas. 
Our Flourless Cake & Cauliflower Crust are both gluten free

The only toppings that are

NOT gluten free are:


Sausage (no gluten, but we

cannot

guarantee gluten-free) 

Meatballs (includes Italian bread crumbs) 
Cauliflower Crust 
Our cauliflower crust has the following ingredients, as listed by the manufacturer.
Cauliflower, Brown Rice Flour, Cornstarch, Water, Tapioca, Sunflower Oil, Extra Virgin Olive Oil, Sugar, Egg, Xanthan Gum, Yeast, Salt, Vinegar, Baking Powder (Sodium Acid Pyrophosphate, Sodium Bicarbonate, Corn Starch, Monocalcium Phosphate). CONTAINS: Eggs
Vegan
The crust of all our regular pizzas is vegan-friendly. 
Daiya Cheese is our chief ingredient used in our vegan pizzas, the ingredients are pictured below: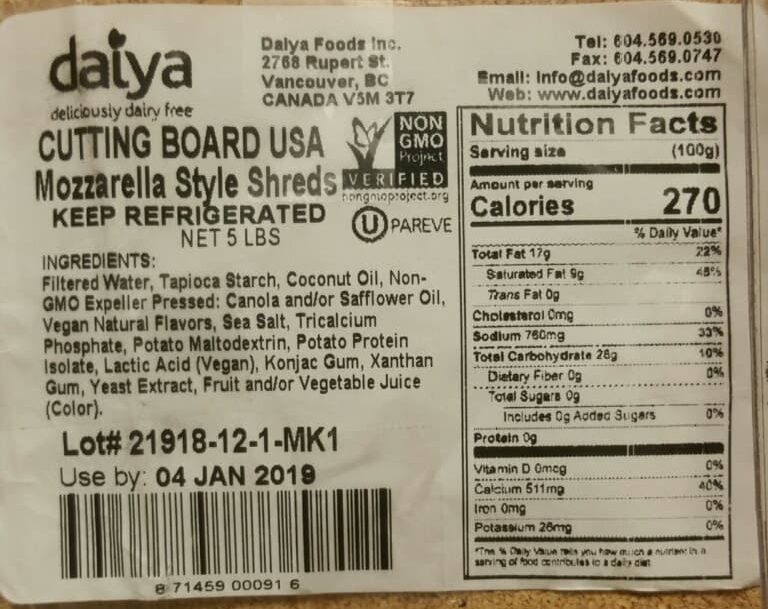 Dairy-Free  
The following food items from our menu are dairy-free

Greek Dressing

Orange Vinaigrette

Regular Crust

Cauliflower Crust 

Vegan Cheese



NOTE: *Our meatballs are NOT dairy free, they do include Parmesan. 
Eggs
The following menu items do contain egg ingredients:
All desserts

Cauliflower crust 

Meatballs

Cesar dressing

Ranch dressing

All dishes with mayonnaise 
More questions? Ask away! 
If you have further questions about our menu ingredients or food preparation, please don't hesitate to reach out to a staff member or contact our management team. We are more than willing to assist any way we can with your dietary needs.