Take N' Bake Pizzas: 575° Pies Any Time You Want!
Friday, March 26th, 2021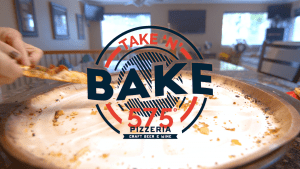 They say that necessity is the mother of invention. When the pandemic struck in 2020, we needed a way to continue serving our guests safely. Founder Brian Kelleher and his team at 575 imagined a way to do just that: Take N' Bake Pizzas! What better way to continue providing delicious food than offering our pizzas in a new, convenient format? The idea turned into something much more than that, though.
Now, our Take N Bake pizzas give you a way to enjoy 575° pies whenever you want! You can get a few and freeze them, so you don't have to get out of the house. Live out of town? You can pick some up to take home and feed your cravings, even if you aren't in Texas! They really are pizza perfection! So, what's the scoop on our Take N' Bakes?
How they started
When we first mentioned our new pizzas on social media in early 2020, our fans loved the idea. We did too! Brian spent time in quarantine carefully crafting and refining the Take N' Bake into something everyone could enjoy. Yes, even kids and picky eaters.
Cooking pizzas in a specialized oven and making them at home are two very different things. Testing had to be completed to ensure that the temperature differences, times, and ingredients were just right so that the 575° style could be replicated at home. If you missed Brian's live streams featuring some of this early process, check them out here.
What kind of 575° Take N' Bakes are available?
You can get ANY of our pizzas as a Take N' Bake. You heard that right! We didn't want to limit our guests' choices. So, we made sure that all of our pizzas are available to cook in the comfort of your home. Curious about our ingredients? Here's a small list of what we use.
Dough: Hand-made and designed for that classic crisp. We even have gluten-free!
Sauce: Fresh and delicious, whether you choose red (hearty) or white (lighter). Ranch-based, Asian ginger sauce, BBQ red sauce, pesto sauce, creamy mustard sauce, olive oil: No matter how you slice it, we have the sauce for you!
Cheese: High-quality and paired with each ingredient for a full flavor experience. Lite mozzarella, mozzarella, cheddar, parmesan, goat cheese, feta, Vegan/soy cheese: We've got all the favorites!
Toppings: Veggies, meats, fish, and more! Choose from our in-house creations or create your own. We've got 34 toppings ready for you to enjoy!
How do you cook a Take N' Bake?
You don't have to be a professional chef to bake these pies at home. We include instructions on how to bake your 575° pizza, but here are some tips that can help. First, bake the pizza for six minutes, then rotate it half of one turn. Next, cook it for another six minutes. Finally (and carefully), remove and cut the pizza into as many slices as you like and enjoy! If you've put our Take N' Bake product in your freezer, you'll want to thaw it out before placing it in the oven. (Our tests on a frozen version haven't been fully refined yet, so this is our current recommendation.)
Feeling hungry?
Now that things are getting back to normal, we'd love to serve up your favorite pizza! But, if you don't feel like dining in, that's okay too! Call in an order for one (or more) of our Take N' Bake pizzas and we'll have it ready for you. (Insider's tip: A Take N' Bake can be a good way to side-step a 1- or 2-hour wait for our To-Go Pizzas on a busy night, as an idea!) Check out our Menu and don't forget about the drinks and desserts!