Traditional Pizza Sauce Vs. Other Sauces
Friday, September 10th, 2021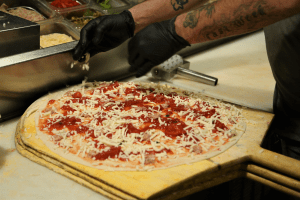 Do you like traditional pizza sauce or something more modern? Most people prefer certain crust styles and toppings, but you can also find a favorite sauce! Here's the difference between the original red sauce and others.
Traditional, tomato-based red sauces
Traditional pizza sauce is made with a base of tomatoes and spices like garlic, onion, basil, and oregano. You might think that this makes a pizza simple or boring, but this isn't the case. There are so many varieties and recipes for it that you'll never get bored of this meal!
Red sauces with different flavors
Pizza sauce doesn't just have to be savory. It can also be sweet, spicy, or peppery. Getting a different flavor is accomplished by using non-traditional ingredients like brown sugar, red pepper, black pepper, or even cayenne peppers. If you're feeling adventurous, you can try all of these choices with different toppings.
Traditional red pizza sauce is typically more simple than many of the modern options you see today. The flavor of the tomatoes pairs well with a large variety of ingredients, making the choices virtually endless for pizza lovers. (Try our Omni, voted Best Pizza in America by Urbanspoon in 2014, for a great example of this!)
Texture is important
When you think of traditional pizza sauce, you likely think of a smooth texture and a thick consistency. This type is most common because a thicker consistency allows for less soggy dough. This is the most important factor besides taste, but the texture is something to consider as well. If you're looking for something different (and delicious) try a chunkier pizza sauce! (This is the texture we use in our signature recipe here at 575° Pizzeria, but if this isn't your preference, just ask for "No Chunks" and we'll save the chunkiness for our other guests.)
White pizza sauces
There are actually a lot of types of white pizza sauces that make a tasty (yet sometimes less healthy) alternative to tomato options. Some white pizzas don't have any sauce at all, relying on oily toppings to prevent the dough from drying out. Here are some popular white pizza options you can try!
Olive oil and garlic oil
These are the traditional white sauces for pizzas and are a classic in their many forms around the world, but especially in Italy and the U.S.A. For many, the debate is always red vs. white, but they are both delicious. Using olive or garlic oil gives pizzas a distinct flavor and allows the toppings, rather than the sauce, to shine. Toppings often include things that may not be as popular on red pies like artichoke hearts, anchovies, chicken, and cured meats.
Alfredo
This white sauce definitely isn't for everyone, but it is delicious. It can be made like actual alfredo or using only a few of the same ingredients. Some variations have multiple kinds of cheese for the base. Because the taste of this choice is strong, the toppings must also be flavorful. Olives, mushrooms, bacon, and steak pair well with alfredo on pizza.
Pizza sauces made with "strange" ingredients
Using unexpected ingredients on pizza is somewhat of an art form these days. Because most pizzerias offer build-your-own options, you're only limited by the ingredients they have. The following are some of the more adventurous pizzas sauces you may encounter.
Pesto: This sauce is made using traditional ingredients like olive oil, garlic oil, and basil (A LOT) as well as lemon and pine nuts. This choice is good for those who don't like tomatoes, but still want something healthier for their pizza.
Ranch-based: This is considered a white pizza sauce and pairs well with chicken, bacon, and many vegetables.
BBQ: This non-traditional choice tastes great with any meat you'd normally grill, as well as pineapple (yes, we said it!).
Ginger: If you're a fan of cross-culture foods, this sauce is for you. It pairs well with traditional Asian foods as well as candied jalapenos, bacon, and ham.
What makes 575° Pizzeria's red sauce so delicious?
Our tomato sauce is traditional but stands out in a world full of bland pizzas. We use stewed Roma tomatoes to make our hearty and chunky sauce, as well as basil. It's a fresh and vibrant take on tradition. If chunky isn't your thing, we also offer our specialty recipe smooth upon request! Again, just say "No Chunks" when ordering. We'll know what you mean. We have five other sauces for those who want something a little different on their pizza too.
Check out our Menu to see everything we have available and to find your new favorite flavor combo! You can also call us at 806-322-5575 ext. 1 (Civic Circle) or 806-322-5575 ext. 2 (Hillside) to make an order or stop by one of our Locations.